Supplies used!
It's been a while since I've posted any of my fun Fall Decor projects, so here we go!!
I've seen so many cute & creative projects all over Blogland, but these
Deco pumpkins at Crafted Niche
's blog really caught my eye. I had to make these adorable pumpkins!!
You can hop over to her blog for a step by step tutorial, but here's my quickie version!!
Supplies: Mod Podge, Primer (or white spray paint), a sponge brush, Book pages, Dollar Store pumpkins, moss, tree branches, paint, glue gun and fabric scraps.
1) Cut off the stem from the pumpkin. See pic!!
2) Time to Prime-just cover the pumpkin(s) with a coat of primer and allow to dry.
3) While the primer dried, I began tearing my dictionary pages. I used "P" pages for Pumpkin!!
4) Once the pumpkin was dry, I began applying Mod Podge directly on the pumpkin, then sticking the torn pages on top of the Mod Podge, then sealing it with another coat of Mod Podge on top of the page.
5) Repeat until the pumpkin is completely covered and allow to dry for a few hours.
6) Place the stem onto the pumpkin and glue in place. (See picture)
7) I applied glue around the stem and just stuck some of the floral moss onto it.
8) You can stop here or jazz your pumpkin up with leftover fabric scraps. I free-handed a couple of leaves because I felt like my poor pumpkin needed a splash of color.
I'm loving my easy-peasy Deco Pumpkins! Thanks again to
Crafted Niche
for such an awesome idea (and thorough tutorial)!!
There's nothing better than decorating on the cheap and the total cost of this project was just $3 since I had most of the materials on-hand!!
Finished product-I love it!!!
Instead of Mod Podging both pumpkins-I sprayed this one with Rustoleum's brown and glued fabric onto it!
I think it's so much fun to get creative by making your own holiday decor using the colors, fabrics and embellishments that you want to use! I love that I was able to use the same fabric that I've used on other Fall decor so it all ties together nicely!
I'd love to hear your thoughts!
Thanks for popping by!!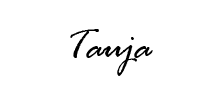 I'm linking up to.....