I can't believe that this is the first post I've written in 2012....ah well, been busy with the fam and just haven't had much time! I promise to do better and by that I mean I'll try to post at least once a month or whenever I'm feeling inspired!!
As the weather heats up, we've been spending much more time outdoors gearing up for the warmer months ahead. One of our biggest priorities was turning our ho-hum patio into the perfect retreat for my hubby & I.
Here are a few BEFORE pics...
This is what we started with-Spring 2010
My wonderful hubby & a friend laid a paver patio
We threw a couple of spray painted Adirondack chairs & a firepit on the patio to make the space more useable-Summer 2011
And here's our newly updated Outdoor patio room...
A bit about the space.
Furniture:
As tempting as it is to just go out and buy new stuff, it's always good to be thrifty and find ways to use and/or improve the furniture you already have. The teak chairs and a bench were purchased on Craigslist four years ago. Last summer I updated them with a fresh coat of Minwax wood protectant stain. The only other furniture we needed was a coffee table since we wanted to make this area more of a conversation area. We purchased this adorable
Target Home Smithwick Metal Patio coffee table
for $69.
Accessories:
Our biggest addition (and splurge) for this space is the
Allen + Roth Stone and Bronze Outdoor wood fireplace
that we purchased at Lowes. Absolutely love it!! We wanted something a bit more dramatic than our old firepit and this was the perfect addition! At $249, we feel like it was a great deal. We certainly couldn't have built one for less than that.
We added new cushions and throw pillows to change up the look and make our seating more comfortable. The brown seat cushions are
Smith & Hawken from Target
($16 each) and the
striped throw pillows
were purchased at Kohls (on sale and with coupons-of course)!
The animal print outdoor rug was purchased at Walmart a few years ago. It's been inside, but I decided it'd be fun to use it outside to anchor and add some extra flavor to the patio. I picked up the cute outdoor lanterns at TJ Maxx-$25 for the two.
So there you have it! We couldn't be happier with the additions we've made to our patio-it feels much more like an extension of the inside of our home and it's the perfect place to unwind with a magazine or a glass of wine!
Thanks for popping by! I'd love to hear your thoughts!!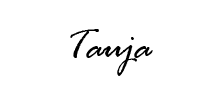 I'm linking up to...