Plain white curtain
I heart window treatments! I just love how they add pizzazz to boring old windows!!
Most of the windows in our home are decorated, but the window in our Master bath has been screaming for some attention.
I haven't found exactly what I've been looking for, but I decided to repurpose the tie-up window shade from my son's old nursery.
It was the perfect blank canvas-white, crisp & clean.

I used a cheapo stencil ($3 for a pack of 3) from Michael's plus a can of Rustoleum's American Accents paint in Chocolate.
Note to self-it would've been a lot neater had I used paint vs spray paint, but my goal was to make due with what I had...hence the spray paint.

Ta-da...the finished project!

Lots of stenciling and spraying!

Love my newly accessorized window!!
I couldn't be happier with the way this curtain re-do turned out! Sometimes slight imperfections are a good thing!!
I'd love to hear your thoughts. Have you spray painted anything random lately?
Thanks for popping by!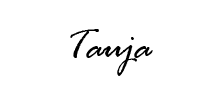 I'm linking up to: